New for 2020 at Oak Cliff Earth Day!
The terrarium workshop by Methodist Dallas
returns to Oak Cliff Earth Day 2020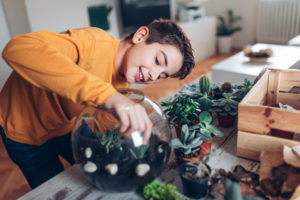 Methodist Dallas Medical Center will host free terrarium workshops for kids at the 2020 Oak Cliff Earth Day on Sunday, April 19. There will be a total of 4 workshops, the first one starts at 12:30 p.m. Each workshop lasts 30 min, with the last workshop at 2 p.m. Each participant will get to make a terrarium to take home.
Space is limited to 25 children per session and will be granted on a first come first served basis.
The 2020 Oak Cliff Earth Day will be held at Lake Cliff Park, 300 E Colorado Blvd, Dallas, TX 75201. For more information check the Oak Cliff Earth Day website or Facebook page.
Be sure to check the Oak Cliff Earth Day Facebook page for latest information.